"He was playing Peacham and I was playing Lockit in the Beggar's Opera – we sang a duet together!" said Mr Riley. After leaving Norwich School , they lost touch with each other, before meeting again earlier this year at a garden party.
The Speech Day prize-giving in Bristol Cathedral was the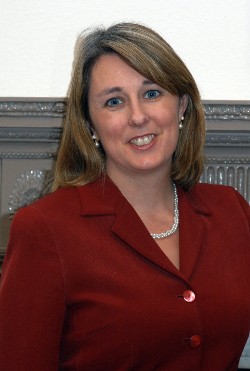 last for Mr Riley, who leaves at Christmas to become Head at The John Lyon School in London . His successor, Mrs Anne Davey, who takes over in January 2005 and will be the school's first-ever female Head, was among the special guests at the ceremony.
Mr Riley joked that since their last on-stage double act, his own acting career had "nose-dived", while Cllr. Cook's had gone from strength to strength. The Lord Mayor is a professional actor, who has performed in Eastenders as well as acting with The Royal Shakespeare Company and at Bristol Old Vic.
Cllr. Cook told the pupils he had seen something none of them had ever witnessed: "The sight of your Headmaster in shorts! Little did we know that we would meet years later when he was Headmaster of this Cathedral School and I was Lord Mayor – one of the wonderful things in life is its sheer unpredictability."
During his speech, Mr Riley heralded the school's exam success this summer, when it achieved its best-ever GCSE results and its best A level performance for 10 years.
And he spoke of his sadness at the Government's decision to abolish the Assisted Places scheme. The scheme paid for some brighter children to attend independent schools, with the last group of such pupils having left the Upper Sixth this summer.
Removing it had deprived youngsters of opportunities, particularly in areas where state schools were not performing well, he said. "Why do we have a have such a dividing line between public and private? We don't have it in the Health Service any more; why do we have to have it in education?"
Bristol Cathedral School has pioneered work to share its musical expertise and its facilities with LEA schools in the city. The work has included leading the Bristol Voices project, which gives hundreds of youngsters at primary schools across north Bristol the opportunity to learn from professional singing teachers.